Situation tense in Nagorno Karabakh
By Messenger Staff
Tuesday, August 5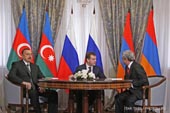 At the end of July, Armenian-Azerbaijani relations became increasingly tense. The tension concerns the two countries border and mainly the Nagorno Karabakh conflict area.
There have been a number of casualties reported from both sides, among them are civilians. Air power and heavy weaponry have been used during the attacks along with the usual weaponry.
Both sides attempt to shift responsibility to the other. The US State Department and the Russian Foreign Ministry, as well as the OSCE Minsk Group have expressed their concern over these dangerous developments, calling for peaceful negotiations. The two countriesí leaders are meeting at the end of August in Sochi. Russia is standing behind the negotiations.
Some Armenian analysts claim that the conflict might have been provoked by Russia due to the Armenian leaderís negative statements made in Argentina in terms of Azerbaijan being supplied with weapons by Russia. However, other experts stress that the new confrontation in the South Caucasus and increased tension of relations between the two sides are not in Russian interests. The analysts emphasize that in the case of a wider conflict, Russia will have to interfere and support Armenia, as the country is the federationís strategic partner. Nevertheless, it is known that Russia wants both of the countries in the Eurasian Union and severe confrontation in the region will disturb the Eurasian Union goals.
The West is against the conflict and it has a strong reason for it. The conflict might destroy the transport-transit infrastructure located in the region that will leave the West without Caspian oil and energy for a long time.
There are some analysts as well who think that Armenia even wants such a confrontation in order to sow internal social-economic dissatisfaction among the public. However, this would just make the economic situation worse.
Other analysts believe that the confrontation is profitable for such forces that are against Armenia entering the Eurasian Union until the status of Nagorno Karaback is cleared up. There is one more case that makes the current situation worse for Armenia. The U.S embassy in Yerevan has warned Armenia not to deal with Russian companies that were sanctioned by the United States and EU due to the Ukraine issues. However, it is too hard for Armenia to meet this appeal, as the countryís economy is linked with Russia.