WB allocates $ 30 mln for water supply improvement in Georgian regions
Tuesday, August 19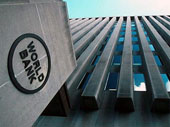 The Georgian government and the World Bank (WB) signed an agreement to provide a soft loan worth $ 30 million to finance the "Second project for the development of municipal and regional infrastructure of Georgia" on August 18. The loan has been issued for a period of 25 years.
The loan agreement was signed by Georgian Minister of Finance Nodar Khaduri and World Bank Regional Director for the South Caucasus Henry Kerali.
Kerali told the media after signing the agreement that the loan funds will be directed towards improving the condition of the population in the regions of Georgia.
"These funds will be used for the implementation of municipal projects, mainly infrastructure," he said. "This must improve the condition of the population."
Georgian Minister of Finance reported that these funds will be spent to improve water and sewage systems in various regions of Georgia.
(trend.az)