Georgia, Azerbaijan plan to hold agricultural forum
Tuesday, August 19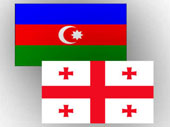 Azerbaijan intends to study Georgia's experience in agriculture, Azerbaijani agriculture ministry's delegation members said at a meeting with Otar Danelia, Georgia's Agriculture Minister.
The Georgian side briefed the Azerbaijani delegation on the projects that have been implemented in the country in recent years in order to develop the agricultural sector, Georgian Agriculture Ministry told Trend on Aug. 14.
The parties also discussed projects implemented by Azerbaijan in the irrigation system, the introduction of new technologies, and procurement of European-made equipment for the agricultural sector.
The Georgian side also expressed special interest in Azerbaijan's experience in agricultural leasing.
"For us it is very important to listen to our neighbors, who have ten years of experience in agricultural leasing, and their opinion is very interesting for me," Georgian minister said. "I think we will be able to hold an agricultural forum with the participation of Azerbaijani and Georgian businessmen. Such a form of communication will give us an opportunity to learn from each other's experience."
During the meeting, Minister Danelia touched upon new challenges related to Georgia's signing of the EU Association Agreement. He stressed that Georgia is introducing new approaches and standards in this regard.
The Azerbaijani side, for its part, communicated Azerbaijani Agriculture Minister Heydar Asadov's congratulations to Minister Danelia on appointment to his new position.
Azerbaijani delegation also conveyed Asadov's wish to see Danelia with a visit in Baku.
(trend.az)