Subari responds to criticism
By Mariam Mchedlidze
Friday, August 22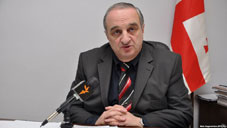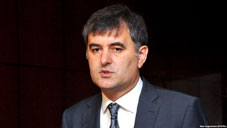 Former Minister of Refugees Davit Darakhvelidze has criticized his substitute in terms of the IDP protest in Poti. Current Minister Sozar Subari admitted that Darakhvelidze's assessments were surprising for him.
The former minister of Internally Displaced Persons Darakvelidze has stated that Subari should have been more focused on the refugees' needs and demands.
Darakhvelidze stressed that the protest rally that took place in Poti was the consequence of the current minister's irresponsibility and indifference to the refugees' future.
"If I encountered such a protest when I took office, I would have been oriented on settling the problem personally," stated Darakhvelidze.
Responding to the allegation, Subari expressed his surprise on why Darakhvelidze did not voice the pretensions personally with him.
Subari stressed that he was familiar with the case and has already reacted adequately.
"My chairperson Giga Giorgadzer and Mamuka Tsotniashvili were with me and we have already talked to the people, and explained the current situation to them," the minister said.
Subari said that 280 accommodations intended for the refugees have already been distributed to the people.
"The quantity of accommodations was limited, and could not satisfy 3,000 refugees. We could not give them flats, as there were no more extra buildings. There were those people among the protesters who have already received accommodations. We use the system based on which flats are given to those initially who are more vulnerable. Gradually, all the refugees will receive a living space," Subari said.
The protest rally in Poti is being held over several days. The refugees are protesting the way accommodations were distributed, and demand a response from the government on the question to whom the flats were given.
One of the protesters even tried to burn herself. The protesters demanded a meeting with Poti Majoritarian Deputy Eka Beselia as well.
Beselia's Press Service stated that the MP was informed over the issue and expressed interest. The service addressed the protesters to draft a written application over their demands.