Government allocates additional funds for Georgian students
By Ana Robakidze
Tuesday, September 16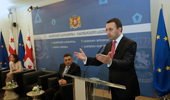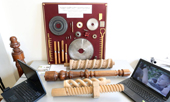 The Georgian government plans to allocate additional funds for developing new technologies. In particular, Georgian students will receive financial support to patent new inventions. The initiative was voiced by Prime Minister Irakli Gharibashvili on September 15th.
"We are ready to provide additional funding for patenting the innovations and new projects created by you. I would also like to invite business representatives and companies representing this field to engage in this project," the PM said, while addressing students at Georgian Technical University to congratulate them on the beginning of the 2014-2015 academic year. He said Georgia is a small country, with a great potential in science. Developing new technologies will help to boost economic development.
"While we are a small state, we represent a unique nation, with great potential. What should a small country do, if not implementing new technologies, creating new projects and introducing innovations? Our government pays great attention to this matter," the PM said, adding that the government has launched several individual projects to promote the education system and offer higher standards to Georgian students.
The International Education Center, created by the government, has been financing Georgian students' education abroad for over two years now. According to the PM, providing scholarships for students of engineering, technology and natural science will be a priority for the center in 2015.
"We taking all efforts to provide our youth the maximum opportunity to receive a high-quality education and use their knowledge for their country when they return home. Recently we have created an agency of innovations and technology, which will work on commercializing different inventions and innovations," Gharibashvili stated.
The Georgian government has started a scholarship project for graduate students. PhD degree seeking students will have a chance to receive 21, 000 GEL per year.