Govít offers financial support to apple industry
Tuesday, September 16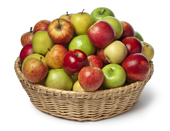 The Government of Georgia is subsidizing the cost of apples as a way to support fruit growers and processing companies.
The Ministry of Agriculture announced apple processing companies would reap the benefits of the 3 million GEL state subsidy, and be offered a subsidy of 0.08 GEL per kilogram of lower quality apples. This aimed to encourage companies to purchase more apples.
The subsidy program will be issued to fruit processing companies who pay 0.10 GEL or more per kilogram of apples which were deemed lower as they were bruised, misshapen or had other imperfections.
A coordination centre overseeing apple harvesting, which operated under the supervision of the Government, has already begun operating in Gori, a city in eastern Georgiaís prominent apple-growing region.
More than 250 tons of lower quality apples have already been purchased by fruit companies this season.
"The fruit growers have to sell the lower quality apples and the fruit producer companies have to purchase it without any problems. In this regard, the Government supports both industry insiders with the subsidy program,Ē said Ministry of Agriculture representative Marina Gorgoshia.
Meanwhile five private plants purchased apples from local farmers.
(Agenda.ge)