Opposition: EU sanctions against Russia will definitely impact Armenia
Tuesday, September 16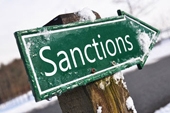 EU sanctions against Russia will definitely impact Armenia, member of Armenian National Congress, economist Zoya Tadevosyan said.
"According to experts' forecasts, Russia's GDP will grow only by 0.5 percent, and by 1 percent in 2015," she noted.
The economist said Armenian export as well as demand for labor migrants depends on Russia's economic activity. High inflation in Russia is accompanied by economic stagnation, and this will hamper Armenia's exports.
"But we have potential to increase export and make our goods competitive in Russia," she added.
(News.am)