Constitutional change create controversy
By Messenger Staff
Tuesday, September 16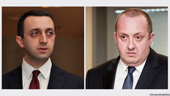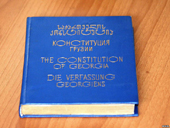 The dispute over who holds supreme power in the country has become a topic of heated debate recently.
It looks as though Prime Minister Irakli Gharibashvili is overrunning President Giorgi Margvelashvili.
The last occasion was related to the UN Summit in New York, where Prime Minister Gharibashvili is to chair the Georgian delegation. He will deliver a speech within the framework of the event and attend a Climate Change session that was supposed to be attended by the president. However, Margvelashvili backed down.
It was stated that two delegations from Georgia would have damaged the country's image.
The "battle" is over, but the "war" is still not over, as the controversy is linked to the constitution which contains various obscurities with regard to the president's and Prime Minister's powers.
Margvelashvili states that he should retain his power in the foreign police field and stresses that Georgia is a semi-parliamentary republic. Meanwhile, the Prime Minister claims that Georgia is a parliamentary Republic and led by the Prime Minister.
The current constitution was hastily drafted under the United National Movement and was fully fitted to the previous leaders' intentions. Thus, the constitution includes various shortcomings which have led to much controversy. However, the problem is that the stoppage cannot be resolved in a timely manner. The Georgian Dream coalition has pushed forward the topic of constitutional changes. However, the amendments require a constitutional majority, and support from the opposition United National Movement, which is against such changes.
On the other hand, the United National Movement and some NGOs support and defend the president, while Margvelashvili is strongly criticized by several members of the coalition and Bidzina Ivanishvili. The latter claims that Margvelashvili causes these controversies. The president, on his turn, emphasizes that he just wants to fulfill his constitutional obligations.
Margvelashvili, although a weak political figure, is gradually increasing his rating among the people. According to the current constitution, which is far from perfect, the president should balance the government and parliament. Thus, the president should not be a strong political figure. However, the constitution grants some important rights to the president. It is obvious that the current model encourages controversy, and these controversies should be removed before the country faces a crisis.