William Lahue: conflict zones create NATO barrier for Georgia
By Ana Robakidze
Tuesday, September 23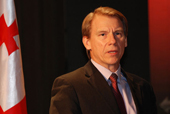 The Head of the NATO Liaison Office in Georgia William Lahue says Georgia's geopolitical location can be an obstacle on its way to NATO membership, as the country is least close to NATO compared to any other candidate that has ever been qualified for joining the alliance.
In the exclusive interview Lahue gave to the Georgian Journal earlier this month, he spoke about the major problems in the Caucasus region and about the potential Georgia has as a country and as a NATO member.
"You do have a member state on your border, which is good; it means you would be a contiguous part of the NATO alliance. It is a process of convincing everybody that it is the time to let Georgia in and at this time there are differing opinions about Georgia out there. You're the farthest away. Look at reality: The neighbors of Albania know a lot more about Albania than they do about Georgia." Lahue said in his interview which was aired by Georgian media outlets on September 22nd.
Speaking about Georgia and its progress, Lahue confirmed that the country had been very successful at the summit in Wales.
"For Georgia, it's a significant step forward. The new package includes defense capacity building of Georgia. As for now, you have tools that other partners, even aspirant countries do not have," Lahue said.
However, the NATO official advises Georgia to be more realistic about its chances within the alliance and realize that membership status can be achieved only if the member states reach consensus, which is nearly impossible at the moment. He also spoke about the conflict zones in the Caucasus, which can be a big problem to overcome. The NATO official says existing conflicts do not prevent Georgia from becoming a NATO member, but they have an influence over the thinking and analysis of individual allies when they are discussing the timing of Georgia's possible membership.
"It is true that there has been no consensus yet in NATO on granting Georgia MAP, but remember – this is a very complex decision, which should be taken unanimously. From the perspective of the headquarters, every decision is a consensus. If one or two members don't agree, the deal won't come through." Lahue stated. He believes Georgia will have to overcome many obstacles to receive the Membership Action Plan (MAP) and after membership itself.
"The concern of your nation should be focused on its own government, on continuing the reform process, continuing to do things it needs to ensure peace, security and prosperity in your country. The focus should be continuing to move your country towards membership and going through all of these sometimes painful changes: changes within your society, changes in your political culture that are necessary to make you a full-fledged member of this community," the Head NATO Liaison Office said.