IC Group is official insurer of "Peace Festival"
Tuesday, September 23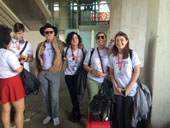 "Peace Festival" is dedicated to the Peace International Day - September 21 and is recognized by the UN among other celebrated events. The project envisages travelling by train to different cities and carrying out there different cultural activities on September 20-21. 250 well known people who support "Peace Festival" travel by this train and IC Group insures each of them for the period of this travel.
According to the data for second quarter of 2014 IC Group runs on the third position in the market in the field of travel insurance. Compared to the second quarter of 2013 there is hundred percent increase in selling this product.
(IC Group)