UAE airline launches direct flights to Georgia
Tuesday, September 23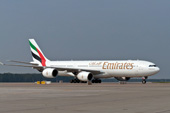 The national airline of the United Arab Emirates (UAE) is expanding its global route network and launching a new regular flight service from Abu Dhabi to Georgia's capital city Tbilisi.
The October launch of Etihad Airways' flights to Tbilisi International Airport was consistent with the company's strategy of targeting areas of strong growth in the fast-growing Caucasus region.
President and chief executive officer of Etihad Airways James Hogan believed the Abu Dhabi-Tbilisi service would contribute to the development of trade and tourism between the two countries.
"New flights will enhance the already strong business and cultural relations between the countries. We are glad that Georgia is joining the Etihad Airways' global route network," Hogan said.
With the new service he believed passengers from Tbilisi would be able to travel to countries in the Persian Gulf including India, Asia and North America.
Flights from Abu Dhabi to Tbilisi will be scheduled three times a week.
Passengers on this flight will enjoy the comforts of an Airbus A320 aircraft with 16 business class and 120 economy class seats, offering a total of 1,088 seats per week.
Meanwhile the Middle Eastern airline also announced it would fly direct to Baku from October too.
Etihad Airways began operating in 2003. Last year the airline carried 11.5 million passengers. From its Abu Dhabi base, Etihad Airways flies to 110 passenger and cargo destinations in the Middle East, Africa, Europe, Asia, Australia and the Americas.
(Agenda.ge)