Irakli Gharibashvili speaks at UN General Assembly
By Ana Robakidze
Monday, September 29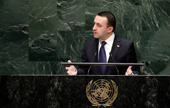 Speaking from the UN General Assembly tribune, Prime Minister of Georgia Irakli Gharibashvili said Georgia that will never give up its territorial integrity and sovereignty and that the country is "at the dawn of a new day," as the democratic institutions are dramatically stronger, foreign policy is making Georgia more secure, and the growing economy is working to benefit all citizens.
Gharibashvili addressed the UN General Assembly on September 26th and spoke about the democratic transformation of Georgia, Euro-Atlantic choice, economics, supremacy of law, freedom of the media, the relationship with Russia and Georgia's support to Ukraine. He also emphasized Georgia's role as a reliable partner to NATO, having been recognized at the NATO Summit for the country's significant progress in modernizing its military forces and continued contributions to the ISAF mission in Afghanistan. He also stressed Georgia's interest in preserving regional stability.
"While we are deepening our European and Euro-Atlantic integration, we are also becoming a truly open, globalized economy. We are making important investments and reforms to unlock the full potential of the Georgian economy and Georgian people. From universal healthcare to investments in clean energy, Georgia is becoming a 21st century economy that benefits all citizens of Georgia," Garibashvili said, adding that the country is set to use its strategic location to connect Asia, Europe and the Middle East and to unlock its full potential as a trade and transit corridor.
Speaking about the development in Georgia-Russian relations, Gharibashvili said his country has made huge efforts in setting up constructive relations with Moscow and to reduce tension between the two countries.
"We have taken constructive steps. Now it's up to the Russian government to stop the occupation and go to the way of peace," the PM stated and called on the Russian government to fulfill its obligations under the 2008 international ceasefire agreement.
In his speech, Gharibashvili addressed Abkhazians and Ossetians and said that one day they will leave in peace together with the Georgian people.
"Dear brothers and sisters, I dream of the day when we all live together in peace and prosperity. We are committed to the path of reconciliation and restoring Georgia's full territorial integrity and sovereignty. We must work to find a way for you to participate in our success, including the benefits of our new EU Association Agreement," he said.
The PM also spoke about Georgia's role as a partner to NATO, and said the country's willingness to serve shoulder-to-shoulder with its allies is not the only the way Georgia contributes to global security, it also takes a rational approach to reducing regional tensions and prevent conflicts.