Muslims in Georgia celebrate Kurban Bayrami
By Ana Robakidze
Monday, October 6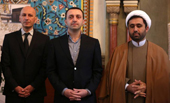 Prime Minister of Georgia congratulated the Muslims of Georgia during the Kurban Bayram holiday. On October 4, the PM visited a mosque in Tbilisi and addressed the Muslims gathered there. He promised them full support of freedom in their religious belief and said the state will never ever let any kind of religious conflict take place in Georgia.
"This is the victory of good over evil, a great holiday of love, hope and charity and I would join your happiness with pleasure. We have always been proud of our tolerance. Our multicultural relations and coexistence are unique and unprecedented. The staged provocations that took place in recent years of course, will not affect our relationship. The government will always be uncompromising with regard to such provocations. We won't let anyone incite hatred between our citizens, especially on religious grounds", Gharibashvili said.
The PM highlighted Georgiaís cultural diversity and is proud of it.
Georgian President Giorgi Margvelashvili also congratulated the Muslims living in Georgia on the Bayram holiday.
"My dear fellow citizens, I cordially congratulate you on the great feast of Bayram. All of you celebrate the day of peace, hope, compassion, care and generosity. The Muslim community of Georgia is an integral part of our society, history and culture.
Your hard work and commitment is an invaluable contribution to the construction of a strong and prosperous Georgia. Your joy is joy for all of us. I join you in your celebration and I wish you and your familyís success, spiritual peace, prosperity and luck," the presidentís statement read.
Eid al-Adha meaning "Festival of the sacrifice", also called the Feast of the Sacrifice in Turkish, Kurban Bayram? is the second of two religious holidays celebrated by Muslims worldwide each year. It honors the willingness of Ibrahim to sacrifice his promised son Ismail as an act of submission to Godís command, before God then intervened to provide Abraham with a lamb to sacrifice instead. The meat from the sacrificed animal is preferred to be divided into three parts. The family retains one third of the share, another third is given to relatives, friends and neighbors, and the remaining third is given to the poor and needy.