Georgian Railway's profits soar to historical levels
Monday, October 6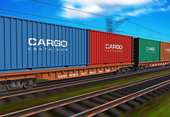 The country's state-owned train operator Georgian Railway LLC (GR) is enjoying a ground breaking year after the company observed record-breaking revenue in 2014.
In the first eight months of this year, Georgian Railway's profits soared to historical levels and reached 335.1 million GEL - up 9.3 percent from the same period in 2013.
"This was historical maximum revenue Georgian Railway received in past years in the reported period," said Georgian Railway in a statement today.
The company noted its income had increased from its freight operations, which reportedly reached 251.2 million GEL. This was up 6.9 percent from the same reported period in 2013. The company said an increase in transportation of dry cargo and oil products played an important role in the increased revenue generated from freight operations.
In particular, there was a reported increase of industrial raw materials, sugar, industrial products and cereals.
Meanwhile, transportation of cement and construction materials were also on the rise, said Georgian Railway.
Revenue from other freight operations totaled 70.6 million GEL – up 18.7 percent compared to the first eight months of 2013.
Georgian Railway, which is one of the country's largest employers, dominated Georgia's freight transportation sector.
(Agenda.ge)