Annual inflation up 1.4 % in September 2014
Monday, October 6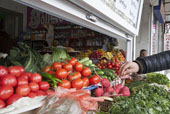 Georgia's annual inflation has hit 4.8 percent in September – up from 3.4 percent recorded in August as the price of food and non-alcoholic beverages, healthcare services and other basic needs increased.
Latest data from state statistics office Geostat revealed Georgia's monthly inflation rate stood at 1.2 percent last month.
Analysts believed the increased costs of food, alcoholic and non-alcohol beverages, cigarettes, healthcare and housing, water, electricity, gas and other fuels had the most significant impact on the annual inflation rate.
The cost of healthcare service in September 2014 was 15.2 percent higher than in August 2013.
In particular, the cost of food and drinks increased by 8.4 percent, which made a contribution of 2.56 percentage points to the overall annual inflation rate.
Also last month significant price increases was observed on vegetables, which saw an increase of 27.3 percent year on year (y/y).
Furthermore, September figures showed the cost of fruit and grapes increased by 16.9 percent y/y, while milk, cheese and eggs increased by 12 percent.
There was 3.4 percent y/y increase in the cost of housing, water, electricity, gas and other fuels.
On the other hand the cost of fats and oils dropped 4.3 percent y/y.
(agenda.ge)