A new threat from Russia
By Messenger Staff
Monday, October 6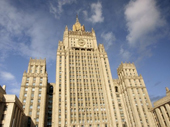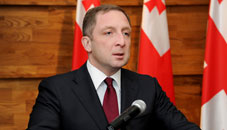 Speculation over opening a training center for Syrian rebels in Georgia has gradually decreased. However, the issue was pushed forward by Russia again on October 3. A statement was made by the Russian side regarding the training center was assessed as an open threat by Georgian officials.
Word of establishing a training base in Georgia was first released by Foreign Policy magazine. Nevertheless, the validity of this information was downplayed by the Georgian prime minister and other officials. Despite the denial, the Press and Information Centre of the Russian Foreign Ministry seized on the issue.
The Russian Foreign Ministry released a statement saying that in the case [a training center was opened], it would have seriously affected the South Caucasus' stability and security, as well as nearby Russian borders.
The statement emphasizes that such a decision "would have inevitably caused negative developments in Georgian-Russian relations."
Minister for European and Euro Atlantic Integration, Alexi Petriashvili, states that the Russian Foreign Ministry statement included a "threat warning." Though he admits that Georgia is a sovereign country and decides itself what decision to make.
The minister confirmed that Georgia does not intend to open the training center and appealed to the Russian side to revise its policy: fulfill the 2008 Ceasefire Agreement with Georgia, stop assisting Ukrainian rebels in Ukraine and rescind recognition of Georgian occupied regions as independent republics.
There are also questions as to why the Russians seized on this issue. There might be two reasons. First, it is possible that pro-Russian forces believe that the Americans spearheaded the idea of establishing a training center in Georgia, after which the Georgian government initially accepted the initiative. However, after a very negative reaction from public, the Georgian Dream government decided to shelve the initiative.
The second reason might be related to the Russian position. The Russian government might simply have been demonstrating their absolute opposition to opening any foreign base in Georgia, no matter the purpose.
According to political analyst Mamuka Areshidze, if Georgia were to disregard Russian concerns over the issue, it could very well lead to new sanctions against Georgia – perhaps even another ban on Georgian exports like wine and mineral water. Fellow analyst Tornike Sharashenidze shares this vision and admits that Georgia might face new unpleasant developments in Abkhazia and South Ossetia as well.
However, they also state that the new government has such a tolerant policy to Russia that they will refrain from irritating the Kremlin.