NATO Secretary General promises protection to Eastern members and allies
By Ana Robakidze
Tuesday, October 7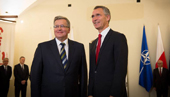 NATO Secretary General Jens Stoltenberg is paying his first official country visit since taking up his post earlier this month. Stoltenberg arrived in Poland on October 5 to meet with President Bronislaw Komorowski, Prime Minister Ewa Kopacz, Deputy Prime Minister and Minister of Defence Tomasz Siemoniak, and Minister of Foreign Affairs Grzegorz Schetyna.
Speaking to NTB, one of the polish TV channels, the Secretary General said NATO shall provide its members in the East the same confidence Norway experienced once. He promised security to Poland and protection from possible threats from Russia.
"We in Norway understand how important it is, the security that NATO provides. Now we give the same reassurance to the countries that are in the East… I will show Poland and other eastern allies that NATO is behind them, that they are part of an alliance that guarantees all the member countries' safety," Stoltenberg told NTB in Warsaw.
Stoltenberg also said in the interview that the alliance could deploy its forces wherever it wants. NATO leaders agreed at a Wales Summit to set up a rapid reaction force that could be sent to a hotspot within days, and to pre-position equipment and supplies in eastern European countries to receive the force if needed.
Stoltenberg claims NATO will protect the East from Russia without violating its international commitment, include a post-Cold War deal with Moscow, which restricts the alliance from deploying permanent military forces in the former Soviet states.
"There is no contradiction between a strong NATO and building constructive relations with Russia," Stoltenberg told Gazeta Wyborcza in Poland. Speaking about the alliance's increased presence in Poland and the Baltic states, Stoltenberg said NATO is strengthening our security without violating NATO's international commitments.
According to the Secretary General's office talks in Poland are expected to focus on a range of security threats to the international community, including the crisis in and around Ukraine, as well as on the progress of implementing the decisions taken at the NATO Summit in Wales.
Stoltenberg will also visit Lask Air Base and meet with air force personnel from Allied countries.