Georgia will chair the European energy charter in 2015
Tuesday, October 14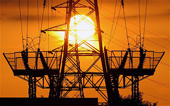 Vice-Premier Minister of Energy of Georgia Kakha Kaladze met European Energy Charter Secretary General Urban Rusnak.
At the meeting, the sides discussed issues of regional power transit, investment relations between the member countries of the Energy Charter and its future prospects.
In addition, Georgia has expressed a wish to be chairmen of the European Energy Charter in 2015. According the chairmanship the annual international conference will be hosted by Georgia in November, 2015.
Since 1995, Georgia has been the member of the European Energy Charter.
To the present moment, European Energy Charter unites more than 50 countries from Europe and Asia. It aims to establish a legal relationship and improvement of it, therefore, it will minimize risks of energy sector associated with investments and transit policy.
(Ministry of Energy)