Tbilisi hosts international investment forum
By Ana Robakidze
Thursday, October 30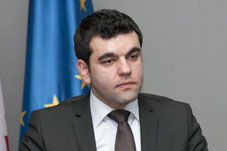 The international investment forum, entitled Georgia: Regional Hub and Asia's Gateway to Europe, was opened in Tbilisi, on October 29. The forum hosts over 100 officials and business representatives from different countries.
In his welcoming speech Prime Minister of Georgia Irakli Gharibashvili spoke about the strategic location of his country and his government's achievements in healthcare, education, political stability, national security and economic. He also emphasized the simplicity of Georgian law on corporations and investments. Gharibashvili said Georgia is ready to use its strategic location and contribute to the revitalization of the historic Silk Road. He also spoke about the new deep-sea port, which is planned to be constructed in Anaklia and will have 100 million tons of cargo turnover per year.
"Investing in Georgia is as safe as investing in any other country in Europe, except that your costs and taxes will be lower, there will be fewer regulatory burdens, and your returns will be higher," the PM stated. He also briefed the guests on Georgian Partnership and Co-investment Funds and said creating macroeconomic stability, open and fair competition in the market, a transparent legislative environment, as well as establishing freedom of access to an independent judicial system are the major priorities of the government.
Gharibashvili spoke about Georgia-EU relations and said the Deep and Comprehensive Free Trade Agreement (DCFTA) signed in June 2014 significantly increases the investment attractiveness of Georgia and creates new investment opportunities.
Deepening ties with EU and NATO was cited by the Prime Minister as foreign policy priorities for Georgia.
"Pre-estimates indicate that the DCFTA will increase Georgia's exports by 12.4% and imports by 7.5%, implying an improvement in trade balance. In the first six months of 2014, Georgia's trade turnover with the EU grew 15% year-to-year, with an amazing 41% year-to-year increase in exports and a 9% increase in imports in comparison with the 2013 data. This was without the DCFTA being in force," Gharibashvili said.
The Georgian side expects increased investment flow in 2015. According to the Head of the Georgian Investment Agency Giorgi Pertaia, investors are mostly interested in energy and agricultural sectors, tourism and gambling business.
Georgia ranks number 1 in ease of doing business among countries in Eastern Europe and Central Asia. According to the latest World Bank report on Doing Business, Georgia ranks first in the region and 15th in the world.