President of Latvia visits Tbilisi
By Ana Robakidze
Thursday, November 27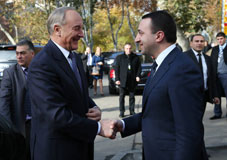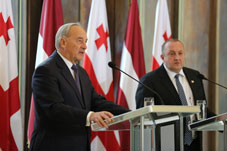 President of Georgia Giorgi Margvelashvili welcomed his Latvian colleague in his palace on November 26. According to Margvelashvili, the visit of Andris Berzins is extremely important as Latvia is the next president country of the European Union and Georgia greatly values its relations with such an important ally.
According to the president's press center, the two leaders stressed the importance of strategic cooperation between the states and the desire to further enhance this cooperation. The regional security issues and the crisis in Ukraine, Black Sea and Baltic regions were also discussed at the meeting.
Speaking at the joint press conference held after the meeting, Margvelashvili said Georgia has very important work to do, to get closer to the EU and all the work has to be done within a few months.
"We have a very important agenda defined by the recently signed Association Agreement," Margvelashvili said, and added that Latvia has extensive experience in EU issues to share with Georgia.
The president also spoke about the situation in Georgia's break-away regions and said the government supports only peaceful ways of conflict resolution. Therefore, the Geneva format will be maintained so the Georgian and Russian sides can continue negotiations. He thanked the Assembly of the Baltic countries for officially condemning the Agreement on Alliance and Strategic Partnership signed between the Abkhazian de-facto government and Russia.
Berzins also had a working dinner with Georgian Prime Minister Irakli Gharibashvili. The two discussed the Russia-Abkhazian agreement and President Berzins once again expressed his full support of Georgia's territorial integrity.
After the dinner the PM and the President of Latvia went to attend the Georgia-Latvian business forum held in Tbilisi.
President Berzins arrived in Georgia together with eight government members and around 70 representatives of the Latvian business community. The delegation will visit Batumi before leaving the country.