Georgian officials meet with NATO staff
By Ana Robakidze
Thursday, December 4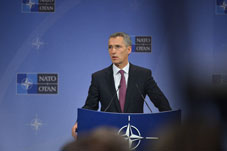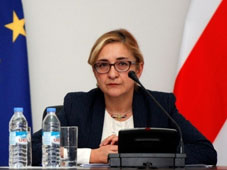 NATO will help Georgia with setting up a training center, Secretary General Jens Stoltenberg said at a press conference following the meeting of NATO foreign ministers on December 2.
"Georgia is a partner of NATO. We have decided to work together, and we have decided to help assist Georgia with its training center," Stoltenberg stated.
The Secretary General also answered a question about the Russia-Abkhazian treaty and said NATO and its partner countries do not recognize in any way Abkhazia or South Ossetia as independent states and that these regions can be seen only within Georgian borders.
"They are part of Georgia… within Georgia's internationally recognized borders. And we strongly support the sovereignty and the territorial integrity of Georgia within those borders," the secretary general said.
Speaking about the overall security situation in the world, Stoltenberg said there is Russia violating international law and not respecting the independence and sovereignty of Ukraine, and in the south, instability is approaching NATO's borders in Iraq and Syria, two countries bordering NATO member Turkey. He said NATO states agreed at the ministerial to keep a NATO presence in the East and to implement the Readiness Action Plan in full.
"It is the most significant and largest increase in our collective defence since the end of the Cold War. And the Readiness Action Plan is an important part of our response as an alliance to the threats we have seen developing both in the East and to the South." Stoltenberg stated.
Georgian Foreign Minister Tamar Beruchashvili, is also visiting NATO headquarters to participate in the ministerial. She held a series of bilateral meetings within the framework of the ministerial. The minister met her counterparts from Bulgaria, Belgium, Portugal, Lithuania, Iceland and Slovakia.
Beruchashvili focused on the recently signed Russia-Abkhazian treaty and briefed her colleagues on the main goals of Georgia's foreign policy in terms of European and Euro-Atlantic integration.
The foreign minister also participated in the meeting of the countries involved in the latest NATO mission, which is due to start in 2015 and is aimed at training, equipping and assisting the armed forces of Afghanistan.