European Parliament ratifies association agreement with Georgia
By Ana Robakidze
Friday, December 19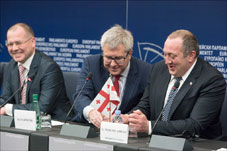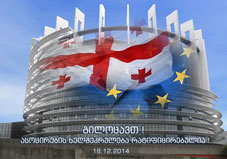 The European Parliament ratified the association agreement (AA) with Georgia at its session on December 18. The deal will establish a deep political association and economic integration between the EU and Georgia, including the progressive opening of their respective markets.
The session was attended by Georgian President Giorgi Margvelashvili and his predecessor Mikheil Saakashvili.
The accompanying resolution stressed that the AA covers the entire internationally-recognized territory of Georgia, although Russia continues to occupy the regions of Abkhazia and South Ossetia. While noting Georgia's significant progress, it urges the country to consolidate the reforms, end the selective and political use of justice and work towards a society of pluralism, non-discrimination, tolerance, solidarity and equality between women and men.
"The European Parliament's ratification of the Association Agreement with Georgia has opened a new chapter in European Union relations with Georgia… Georgia has made significant progress in reforms and strengthening its relations with the EU. We welcome recent judicial reforms designed to strengthen Georgia's democratic institutions and support the efforts of Georgian society to achieve further democratization. Although much work remains to be done, experience shows that Georgians prefer to solve their problems, not to avoid them. I think that Europe should now show its real solidarity with Georgia and its people," reporter Andrejs Mamikins said at the session.
The AA has been ratified by eleven EU-member states so far: Romania, Bulgaria, Lithuania, Latvia, Malta, Slovakia, Estonia, Hungary, Sweden, Croatia and Denmark.
Speaking at the press-conference, the President of Georgia thanked his European colleagues for supporting Georgia and said his country remains loyal to its western path and constructive measures taken by the government will finally make Georgia a full member of the European family.
Apart from attending the parliamentary session in Strasbourg, President Margvelashvili held meetings with the Vice-President of the European Parliament Richard Charnetsky and the chairperson of the Foreign Affairs Committee Elmar Brok to discuss the significance of the ratification of the EU-Georgia Association Agreement and the plans for further cooperation.