Georgia to introduce new Juvenile Justice Code
By Ana Robakidze
Thursday, January 22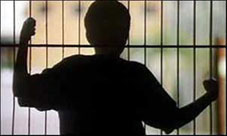 Juvenile offenders in Georgia will be tried under the new code. The code initiated by the Ministry of Justice requires a special institution to be established to deal with the criminal cases involving the country's youth. The ministry claims that the juvenile code will fully meet European standards and the Convention on the Rights of the Child.
"We are introducing innovation. All criminal cases in Georgia involving minors will soon be handled by police officers, investigators, prosecutors and judges who specialize in juvenile offences," Justice Minister Thea Tsulukiani said.
Justice Minister, law-makers, as well as representatives of NGOs gathered at an inter-institutional meeting to discuss the juvenile code, which will establish a whole new judicial system for young offenders.
The new code offers amendments in criminal records and prison terms. A juvenile's conviction status will be cleared as soon as the sentence period expires, also they will have a reduced pre-trial detention period from 60 to 40 days.
Also, the code waives life imprisonment, replacing it with house arrest. Juveniles will be sent to prison in only exceptional cases. In this case the offender can be sentenced to a maximum of 10-15 years of imprisonment. The minimum age at which people may be charged with a criminal offence remains 14 years-old. The code bans sending juvenile suspects or convicts together with adult in the same cell, or even in the same facility.
According to the ministry, the juvenile code was prepared based on the recommendation of Georgian and international experts, the European Union and UNICEF.
According to UNICEF the draft Juvenile Justice Code is a comprehensive document covering issues concerning children in conflict with the law, child victims and witnesses of crime as well as children participating in administrative violations proceedings.
"I would like to commend the Ministry of Justice for their efforts to develop a separate Juvenile Justice Code and to ensure compliance of the juvenile justice system with international standards", said Sascha Graumann, UNICEF Representative in Georgia.
"Specialization, use of detention as a measure of last resort, introducing alternative measures and sentencing mechanisms, child friendly and individual approaches are the main components of a modern and child friendly justice system." Graumann added.
Graumann said that UNICEF remains committed to provide continuous support to the Government of Georgia in the implementation of the Code through the development of secondary legislation, protocols and guidelines for professionals, establishment of different mechanisms and strengthening the capacity of justice and other professionals.