GEL continues to depreciate against USD
By Ana Robakidze
Monday, January 26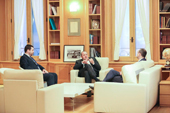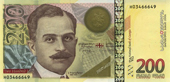 The Georgian lari continues to depreciate against the U.S. dollar hitting its lowest rate in the last few years. Lari has fallen to its lowest level since April 2004 and according to the latest exchange rate set by the National Bank of Georgia 1 USD is valued 1.99 GEL.
Georgia's national currency started to fall in November 2014 and the National Bank had to sell nearly 80 million USD at the Foreign Exchange Currency Auction in December, but these efforts were not successful to stop the devaluation. According to the National Bank, Georgia has a floating exchange rate, which means that the currency is set by the foreign-exchange market through supply and demand in relation to other currencies. The head of the National Bank Giorgi Kadagidze says considering the high economic growth rates, the national currency is expected to appreciate in the medium term and the state financial institutions will use all the instruments at its disposal to ensure that the current events do not have a negative impact on inflation and the financial conditions of the population.
On January 23rd President Giorgi Margvelashvili invited Kadagidze to his palace to discuss the possible solutions for stopping the currency depreciation.
According to the president's press center Kadagidze informed Margvelashvili on the possible consequences of the currency depreciation and the impact it may have on the economic development.
"Declining exports and money transfers and their negative impact on the national currency was also discussed," the press center said.
Financial experts also blame economic problems in Russia and say Georgia and many other countries that are linked to the Russian market have lost huge money as the rubble depreciates. According to the World Bank data, Georgia is among those nine countries which collectively lost around 10 billion USD due to the economic problems in Russia.
Leading world financial institutions changed their forecast for Georgia's economic growth for 2015 from 6.3% to 4.3%.