Meeting with CEO for RWE AG
By Messenger Staff
Monday, January 26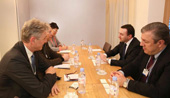 The Georgian delegation at the World Economic Forum in Davos held a meeting with Peter Terium, Chief Executive Officer of RWE AG.
The Georgian side provided the company's representatives with information on Georgia's business and investment environment. In the nearest future, a working group from RWE AG will visit Georgia to familiarize itself with situation on the ground.
RWE AG is a leading European provider of electric utilities with its revenue making up 68 billion dollars in 2014. The company has more than 66 thousand employees.