Russian occupation continues
By Messenger Staff
Monday, January 26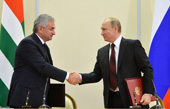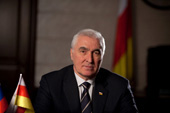 The Russian State Duma ratified the agreement on alliance and strategic partnership with Abkhazia, therefore taking one more step in its annexation policy. The agreement, which was unlawfully signed with Georgia's breakaway region in November 2014, has caused great concern in the Georgian government, as well as among foreign politicians, who condemned Russia's actions. The Georgian government has repeatedly called on the international community to support the country against Russia. However, these actions do not seem to be enough to stop it.
According to Itar-Tass, the leading news agency in Russia, 441 MPs supported the ratification of the agreement on January 23, and the Georgian Ministry of Foreign Affairs immediately issued a statement condemning the fact. The MFA said it was another step towards annexation of Georgian territory and called on the Kremlin to immediately stop its "destructive" actions. The ministry says Russia has violated international law including the cease-fire agreement of 12 August 2008.
The ministry is also asking the international community to assess Moscow's activities politically and legally and to put pressure on Moscow.
The Georgian government has tried to be more constructive and pragmatic with Russia, but Moscow has not reciprocated the move. Moscow has made it clear that it is happy with the Georgian government and its attempts to improve relations with the neighbor. However, the Kremlin is not going to step back and give up its positions in Caucasus and hopes Georgia will accept the "new reality" in the region. Moreover, Russia has been working with another break-way region of Georgia, South Ossetia, to sign a similar agreement with Abkhazia.
Deputy Foreign Minister of Russia, Gregori Karasin once noted that the Georgian attitude towards Russia has become "more reasonable", after former President Mikheil Saakashvili and his government left.
It looks like negotiations with the current political elite of Russia are simply impossible. In Georgia both the government and the opposition think of Russian as an occupant state. However, the parties disagree on the possible solutions to this issue.
The United National Movement (UNM) MP Giorgi Baramidze says the current government has been simply "ineffective" and "inadequate" and this will bring negative consequences in the future. The government shows no sign of reevaluating its policy on Russia, and meanwhile, the agreement on alliance and strategic partnership is being prepared by Moscow and Tskhinvali, which most probably will be signed and ratified in the nearest future.