Tbilisi hosts Georgia-Lithuania business forum
By Ana Robakidze
Wednesday, January 28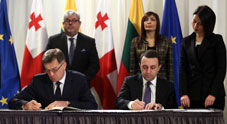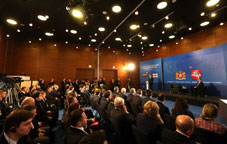 More than 100 businessmen and women, as well as officials of the two countries, took part in the Georgia-Lithuania Business Forum on January 27.
Georgia's business-friendly environment, strong regional trade ties, and the transit potential of the country were the major topics Prime Minister Irakli Gharibashvili addressed in his opening speech.
Speaking about the Deep and Comprehensive Trade Agreement (DCFTA), Georgia signed with European Union, PM Gharibashvili said Georgia expects stable economic growth, hence increased trade turnover with its partner countries, including Lithuania.
"The DCFTA will contribute to economic growth, integration into world markets and global supply chains, and open new prospects for Georgia and for entrepreneurs doing business in our country," the PM stated.
Georgia's business-friendly environment, and its location at the crossroads of Western Europe and Asia, are the main factors for the stable economic development.
"Business is untouchable in Georgia and a business-friendly environment is present. We have excellent dynamics of growth and enormous potential for attracting direct foreign investment in such fields as energy, manufacturing, logistics, as well as real estate and tourism," Gharibashvili stated.
According to Gharibashvili, the recent trade turnover with Lithuania increased by 30.5%, export- by 45.9% and import by 21.4%.
Georgia and Lithuania share common economic interests, Butkevicius said in his greeting.
"I have come to Georgia to promote the cooperation between the businesses of our countries, and I am convinced that the Business Forum will prove productive," the Lithuanian PM said.
After the opening ceremony, PM Gharibashvili and the Lithuanian PM signed the Agreement on Economic Cooperation between Georgia and Lithuania, which will promote business relations between the countries.