Georgian and Ukrainian presidents meet in Kyiv
By Ana Robakidze
Tuesday, February 24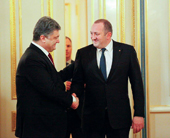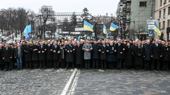 President of Georgia Giorgi Margvelashvili together with his Polish, Lithuania, Latvian, German and Slovakian colleagues joined the March of Dignity in Kyiv on February 22. The march was organized by the Ukrainian government to commemorate the victims of the Maidan clashes, which took place a year ago between protesters and the police.
"Today Ukraine is experiencing difficult times and the Georgian side stands with the People of Ukraine and supports them in their path to defend the territorial integrity, sovereignty and freedom of choice," President Margvelashvili told the public on February 20.
The Georgian and Ukrainian presidents had a face-to-face meeting after the march to discuss the difficult situation both countries have been in recently.
"We are glad to see you today in Kyiv. There were a lot of Georgian flags in Kyiv during these three days of commemoration of the Revolution of Dignity," Poroshenko said at the meeting.
The parties discussed future cooperation plans. Margvelashvili invited Poroshenko to Georgia. The Ukrainian president promised to pay an official visit to Tbilisi as soon as the circumstances allow him.
"I am happy to see how united Ukraine is today. Not only Ukraine but friends of this country have united for the values you have been firmly protecting," Margvelashvili told his counterpart.
The Georgian president also meet Latvian PM Laimdota Straujuma in Kyiv to discuss regional security, as well as the Eastern Partnership summit which will take place in Riga in May.