New constitution delay
By Messenger Staff
Tuesday, February 24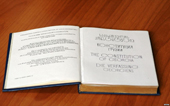 A deadline for filing constitutional amendments drafted by the constitutional commission has been extended for the second time – to before September 15, 2015.
The commission aims to elaborate a new constitution transferring Georgia into a parliamentary republic.
However, the Georgian Dream coalition lacks a majority in the parliament and will not be able to pass the amendments without support of the opposition.
The commission, chaired by Parliament Speaker Davit Usupashvili was created in 2013 and should have concluded its task by September 1, 2014.
Nevertheless, the term has been postponed. The majority claims that the commission works intensively, but there are various topics requiring more discussions and consensus.
Meanwhile, the parliament chair believes that some issues might be voted on in parliament in the course of the following two months.
"But the core amendments should be produced no later than September 15," he said.
The speaker refrained from voicing topics that the majority and minority could agree upon.
However, he stressed that the commission sitting was scheduled in March and several issues would be settled there.
Regarding the opposition question whether the initial amendments would concern the election system, Usupashvili responded by saying that he will voice his position in the near future.
Prior to the 2016 parliamentary elections, the opposition and local watchdog organizations demanded changes in the current election system.
They insist on the rejection of the majoritarian system for selecting MPs. Such revisions require constitutional amendments, as the constitution specifies the presence of 77 proportional and 73 majoritarian MPs in parliament.
With the majority election system, only one member of parliament is to be elected per constituency, while with the proportional representation system several members of parliament are to be elected per constituency.
Basically every political party presents a list of candidates and voters can select a list, that is they vote for a political party. Parties are assigned parliamentary seats proportionally to the number of votes they get. The opposition and NGOs stress that there is a great difference in number among different constituencies in Georgia that reveals the majoritarian system as unfair.
The opposition United National Movement states that it will vote in favor of scraping the majoritarian rule if the issue is pushed forward, while the majority has not revealed its position on the issue yet.
The parliament chair stresses that the opposition ignores the meetings of the working group. He has appealed to the National Movement to actively participate in the commission's activities.
The commission is composed of five groups working in the following directions: Ensuring the balance of power to parliament between the government and the president; human rights, the court, the prosecutor's office; other independent constitutional institutions - the Security Council, the National Bank, the Ombudsman, the audit service; state territorial arrangement, local governance, self-government; general provisions of the constitution and the revision of its rules.