Where will Abashidze-Karasin talks lead?
By Messenger Staff
Monday, March 2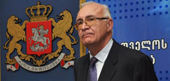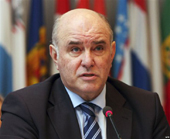 Special Envoy on Relations with Russian Zurab Abashidze had yet another meeting with Deputy Foreign Minister of Russia Gregori Karasin on February 27.
According to Abashidze, implementation of the agreement of 2011 on monitoring trade relations between Georgia and Russia was one of the major issues discussed in Prague.
Georgia supported Russia's WTO membership only after Tbilisi and Moscow signed an agreement in 2011, which envisaged setting up a system for tracking and auditing cargo passing through the breakaway regions of Abkhazia and South Ossetia. According to the agreement, a "neutral" company has to be hired to carry out monitoring of the cargo movement through two of the three trade corridors which run in the breakaway regions, and also the third one on the Zemo Larsi-Kazbegi check-point of the undisputed section of the Georgia-Russia border.
The parties have agreed on SGS, a Geneva-based company and one of the largest inspection, verification, testing and certification companies in the world.
Abashidze confirmed after the Geneva meeting that the Georgian side already had prepared the contacts and the Russians have promised to prepare their contact with SGS shortly.
The possibility to restore the railway between Georgia and Russia via Abkhazia was also discussed at the meeting. However, the parties did not go into details and the issue remains open to the further discussion. According to Karasin, the discussions on the railway need involvement of the Abkhazian side.
The Georgian opposition has been very harsh to the criticism of Abashidze-Karasin talks. The opposition parties believe Russia is the only side to benefit from the Prague format. The United National Movement (UNM) and Free Democrats have criticized the format for once again bringing forward the railway topic. The parliamentary opposition is against all discussions about restoring the railway thought Abkhazia.
Prime Minister Irakli Gharibashvili sees no need in altering the format of the talks with Russia. "The Abashidze-Karasin dialogue is quite successful, and at this stage, we have no plans to review the format," Gharibashvili said.
Georgian MPs have been very suspicious about the effectiveness of the Abashidze-Krasin talks. Abashidze will soon visit the Foreign Affairs Committee of the Parliament to brief the deputies on the outcome of the Prague talks.
The Russian side has constantly reiterated the importance of the Abashidze-Karasin talks. According to the Russian Ministry of Foreign Affairs, thanks to the Prague format, Georgian products could return to the Russian market. However, it looks like the talks will not help with lifting the visa regime for Georgian citizens. Karasin said after the February 27 meeting that the visa regime will remain active until the suspended diplomatic relations between Georgia and Russia are restored.