Suspects in Nemtsov killing detained
By Ana Robakidze
Monday, March 9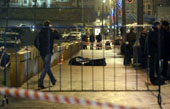 Anzor Gubashev and Zaur Dadayev were detained by the Russian police over the killing of Boris Nemtsov, a former Russian governor and deputy prime minister, who became a prominent opposition figure in the early 2000s. He was shot in central Moscow on February 27.
Gubashev and Dadayev were detained in Russia's Republic of Ingushetia, in the north Caucasus. Chair of the Security Council of Ingushetia Albert Barakhoev told RIA Novosti that Dadaev used to serve as deputy regiment commander in one of the Chechen Republic's interior ministry units, while Gubashev worked as a private security contractor in Moscow.
According to the Investigative Committee's spokesperson Vladimir Markin, the detainees are implicated in both organizing and executing the murder. However, the investigation is ongoing.
The Federal Security Service (FSB) revealed that there are two other detainees in relation to Nemtsov's death. Gubashev's younger brother and a man suspected of being the driver of the car used by Nemtsov's killer to escape the crime scene were also detained.
"I want to believe that these are really the ones who conducted (the killing) and that once in a while law enforcement work professionally and has detained the real assassins, and did not make a mistake," Ilya Yashin, the co-chairman of Nemtsov's party said. Yashin hopes investigators will not fail and find the ones who ordered this murder.
Nemtov's murder is being investigated by a joint task force, which includes the police, the FSB and the Investigative Committee. According to the official reports, the group is working on five possible motives behind the crime. The investigations team thinks the murder may have been a provocation to destabilize the political situation in Russia, or related to his business activities or personal life.