EU launches EURO 2.7m project to support Georgia's Vocational Education Training reform
Monday, March 9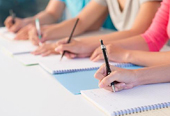 The European Union (EU) has launched a 36-month project to provide support to Georgia as it undertakes the Vocational Education Training reform and other reforms in the country's labor market.
The project will provide technical assistance and support in skills development and in managing and monitoring policies, evaluation of reform activities and human resources management.
The total budget provided by the EU is EURO2.7 million (6.39 million GEL).
The project was officially launched yesterday, March 5, and a special announcement ceremony was attended by the acting head of the EU Delegation to Georgia Boris Iarochevitch, as well as representatives of the Ministries of Labour and Education, international organisations, stakeholders from the private sector and non-governmental organisations.
The direct beneficiaries of the project are Georgia's Ministry of Education and Science and the Ministry of Labour, Health and Social Affairs.
(Agenda.ge)