Nino Gvenetadze becomes the first ever female heard of the Supreme Court in Georgia
By Ana Robakidze
Monday, March 23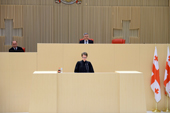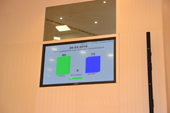 Georgian parliament approved the first female Chair of the Supreme Court. Nino Gvenetadze, who served as a Supreme Court judge from 1999-2005, was nominated by President Giorgi Margvelashvili, and the majority Georgian Dream ruling coalition, as well as MPs from the opposition parties, while United National Movement (UNM) strongly opposed her candidacy.
Her candidacy was offered to President Margvelashvili by the Georgian NGOs: Human Rights Center, Public Advocacy, Youth for Justice, Human Rights Priority, Media Institute and Union of Lawyer Women. The organizations believed Gvenetadze was the best nominee, considering her high qualifications and the fact that she had never joined or been associated with any political parties.
"My main goal is to continue the reforms of the court, to fight for the independence and impartiality of the court and to prioritize human rights…This requires great effort and support from the legislative body. Legislative reform is a perquisite for the independence of the judiciary. My colleagues and I have struggled for justice, and today is a really historic day for me," Gvenetadze said while addressing the parliament on March 20.
Prime Minister Irakli Garibashvili congratulated Gvenetadze on her election as Chair of the Supreme Court.
"I believe Nino Gvenetadze will spare no effort to ensure the independence of the court, to increase trust in Georgia's judiciary," Gharibashvili said.
The 51 year-old Gvenetadze is a Doctor of Law. She currently works as a researcher at Max Planck Institute for Comparative Public Law and International Law in Germany and leads Master and PhD programs at the School of Law at Georgian American University. Gvenetadze led the Judicial Conference of Georgia – the self-governance organ of common courts judges, and the Georgian Young Lawyers' Association (GYLA) in the past.