Can the UNM reclaim power?
By Messenger Staff
Monday, March 23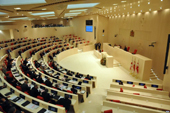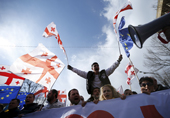 Thousands gathered at Liberty Square in Tbilisi to attend a protest rally organized by the largest opposition party in Georgia, United National Movement (UNM). This was the third and the largest rally organized by the UNM since the party moved to the opposition.
The government and opposition have diverging opinions on how many people actually attended the demonstration. The UNM believes the party managed to gather 50,000 people requesting the government to resign, while the ruling Georgian Dream Coalition says only 10-12 thousand were at the square.
"Bidzina go" posters were seen at Liberty square. UNM supporters from the regions arrived in Tbilisi to join the rally.
UNM leaders addressed the crowd and said the government is actually a puppet, run by former Prime Minister Bidzina Ivanishvili. The leaders presented their action plan on how to force the government to resign. Ivanishvili was the main target of the UNM criticism.
The party leaders said that Ivanishvili has halted the development of the country and because of this, the country is destined for destruction.
MP Goka Gabashvili said the protest rallies will be organized in Tbilisi and in the regions. Additionally, an anti-corruption group will be created to expose corrupt GD officials.
The UNM is going to return to power and focus on the future of the country. Former President Mikheil Saakashvili via a live video feed from Brussels. He explained that there was no time to be spent on revenge.
The party plans to return to the cabinet. However, the goal might be hard to achieve, considering the current rating UNM has and the number of seats they hold in the parliament. The UNM is most likely just trying to maintain the support it has at the moment. Holding on to the minority seats in the parliament, the UNM is not capable of starting the government's impeachment process, neither will the party arrange another Rose revolution in the country. The only chance for the UNM is to gain larger support and prepare for the parliamentary election of 2016.