Stoltenberg: NATO and EU have to help Georgia
By Ana Robakidze
Wednesday, April 1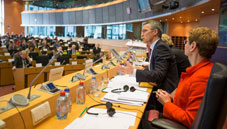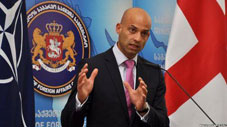 Georgia is a partner to NATO and shares our values, NATO Secretary General Jens Stoltenberg said, addressing the European Parliament's Foreign Affairs Committee on March 30.
"Countries like Ukraine, Moldova and Georgia, are partners of NATO. They are cooperating with the European Union. They have all chosen to move on the path towards Europe, sharing our values. And we should work closely with them," Stoltenberg said. According to the secretary general, Russia puts a lot of pressure on Georgia and NATO, and the EU should cooperate to help the country withstand this intimidation.
"What we are doing is working with these countries to help them modernize, reform their defence sector, and build institutions. And that's part of reforming their societies. I know that the European Union is doing important work – for instance, reform, building political institutions, building good governance; and fighting corruption," he said.
The NATO Secretary General said the alliance will have to help Georgia meet the required standards that a member state is required to have.
"Georgia has applied for membership. We have a comprehensive package to help Georgia, with training, with reform, with institution-building, and we are establishing a big training center there, and all of this we do to try to help them on the way towards NATO membership and to meet the standards of a NATO member," Stoltenberg said.
James Appathurai, NATO's Special Representative for the Caucasus and Central Asian region, also supports the idea of helping Georgia withstand Russian pressure. Speaking for an online Question and Answer session on March 30, Appathurai said Georgia is receiving by far the most defense capacity-building support from NATO.
"We are creating a Joint Training Centre in Georgia, as well as a Defence Capacity Building School, embedding experts in the Georgian Defence Ministry, and we will hold a NATO exercise open to partners in Georgia this year… In essence, there will be more NATO in Georgia, both in terms of visibility and concrete support. If individual countries decide to offer bilateral support to Georgia in terms of equipment or training, that will only complement NATO's efforts," Appathurai said.