Clashes between GD and UNM supporters takes place in Kakheti region
By Ana Robakidze
Thursday, April 23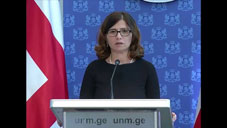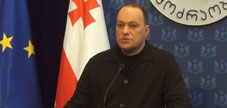 Clashes took place between the supporters of the Georgian Dream and United National Movement (UNM) parties who had gathered in front of the Gurjaani municipality, Kakheti region on April 22.
The situation was calm until members of the UNM, Irma Nadirashvili and Giorgi Ghviniashivli, were about to enter the municipality building where they had planned to hold a meeting with former employees of the municipality, who had been dismissed. Reportedly supporters of the GD, as well as public officials who are the member of the party, verbally and physically abused and threw eggs at the UNM members and their activists. However, GD activists denied all accusations and said they did not even seen where the eggs were thrown from. The UNM already reported the fact to the local police and requested an immediate investigation.
GD activists had gathered in Gurjaani to oppose the work of the anti-corruption commission. They claimed the commission will not be allowed to work in their town.
MP Nadirashvili accused Prime Minister Irakli Gharibashvili in backing confrontations in Gurjaani. "The anti-corruption commission stays in Gurjaani and will not let the local government to work in a calm environment," Nadirashvili said.
According to Ghviniashvili, the UNM expects the incident to be investigated imminently.
"We already provided Gurjaani police station with photo and video footage depicting verbal and physical abuse of MPs, which took place this morning in Gurjaani municipality. UNM requests immediate investigation and offenders to be held accountable," Ghviniashvili said on April 22.
Tensions in Gurjaani began two days ago, after UNM announced the launch of an anti-corruption commission to study facts of nepotism and corruption among public officials. The UNM has been accusing the ruling party of corruption from the very beginning of their tenure in government.