EBRD allocates funds for infrastructure projects in Georgia
By Ana Robakidze
Monday, May 18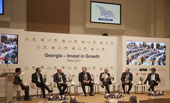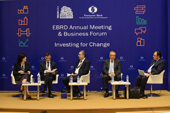 Georgia – Invest in Growth was a major topic discussed at the EBRD 24th Annual Business Forum, which took place on May 14-15 in Tbilisi.
The Ministers of Finance and Economy of Georgia, financial experts, business people and many others gathered to participate in the panel and discuss Georgia's economic potential.
"Our aim is to take advantage of our strategic position between Europe and Asia and revitalize our role in trade and exchange across the Eurasian continent. The Chinese-led New Silk Road project aims to rebuild this bridge between West and East, and Georgia is committed to the success of this vision," Prime Minister of Georgia, Irakli Gharibashvili said in his address to the panel.
The EBRD has a long history of investing in Georgia and it continues to support the country's economy. The EBRD will team up with the EU to launch the first project under the Deep and Comprehensive Free Trade Agreement (DCFTA) and will provide Georgia with a 1.9 million EUR loan to support switching from analogue to digital broadcasting.
The ENRD will also participate in building a new clinic in Georgia and renovating another. According to Minister of Economy Giorgi Kvirikashvili, as a part of investment agreements signed during the 24th EBRD annual meeting the project will be launched with the financial support of the EBRD, which will provide one of the leading Georgian pharmaceutical company Aversi Pharma, with a 10.9 million USD loan to build a hospital.
"It will be a clinic with modern standards. The project implementation process will start in the near future," Kvirikashvili said. The project will not the require construction of a new building; instead money will be spent on renovating the current infectious diseases centre in Tbilisi. Part of the loan will be spent to build a general paediatric and maternity hospital with 84 beds in Marneuli.
"We are proud to team up with Aversi today, a pioneer in the Georgian health care sector. Aversi is a strong and competitive company which provides essential services in this field to the Georgian population. We are impressed by the company's vision, ambition and strive for excellence," EBRD First Vice President, Phil Bennett, said at the business forum.
EBRD will also support Nenksra Hydro Power Plant (HPP) together with a Georgian state-owned shareholding company Partnership Fund (PF).
1 billion USD is the total cost of the hydro power plant which shall be build in upper Svaneti region, EBRD will allocate about 200 million USD to invest in the project.
"Hydropower sector is one of the priorities for us. We took the decision to fund the Nenskra HPP project," said EBRD President Sir Suma Chakrabarti.
The EBRD has invested in Georgia around 2.6 billion USD over the past years.