Largest share of remittances come from Russia, Greece and Italy
Monday, May 18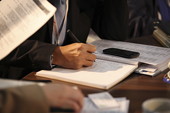 Russia, Greece and Italy top the 12 big donor countries with the volume of money transfers to Georgia.
Despite the reduction of transfers from Russia, this country still remains the leader in terms of remittances. From Russia, $37million USD was transferred to Georgia taking the 40.6 percent of the whole money transfers; Russia is followed by Greece with $13.3 million USD money transfers and Italy with $8.2 million USD money transfers.
The National Bank of Georgia (NBG) published the data of money transfers in April 2015, which showed the country experienced 24.4 percent less money transfers last month than the amount in April 2014.
NBG noted the volume of money transfers from abroad constituted $91.1 million USD (205.7 million GEL), which is $29.4 million USD (66.4 million GEL) less than the amount in the same period of 2014.
92.2 percent of the total money transfers from abroad came from 12 big donor countries, with the volume of transfers from of these countries each exceeding %1 million USD in April 2015.
In April 2014 the share of these 12 countries constituted 93.4 percent of the total volume of money transfers.
Beside Russia, Greece and Italy another big donor countries of Georgia in April 2015 were the United States ($8.1 million), Turkey ($5.7 million), Israel ($2.4 million), Spain ($2 million), Germany ($1.9 million), Ukraine ($1.7 million), Azerbaijan ($1.3 million), Kazakhstan ($1.3 million) and the United Kingdom ($1.1 million).
In April 2015, $14.5 million (or 32.8 million GEL) was transferred from Georgia, as compared to $13.2 million (or 23.2 million GEL) in April 2014.
(Agenda.ge)