Karasin speaks about the possible meeting between the leaders of Georgia and Russia
By Messenger Staff
Monday, May 18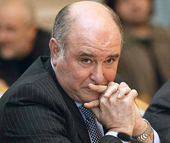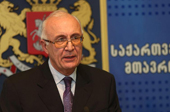 There was a decidedly negative reaction to Gregori Karasin's statement regarding his meeting with Georgian PM's special envoy Zurab Abashidze to prepare ground for the future meeting of the state leaders. The Georgian opposition accused government in secret negotiations with Russia, though the Georgian envoy denied all rumours about being in secret talks with Moscow, but said the format of his meetings with the Russian deputy foreign Minister Karasin might change.
"Sooner or later the heads of the two countries should meet; statements about the possible meeting between the leaders have been made in Tbilisi as well as in Moscow. However, currently we are not in talks about the meeting between our leaders," Abashidze said. He explained that if the meeting between the state leaders ever takes place, it will be oriented on achieving particular results and solving problems related to the breakaway territories of Abkhazia and South Ossetia.
Abashidze-Karasin meeting is said to take place in June, but the exact date has not been set yet. According to Abashidze, the number of the participants may be increased. Considering that the meeting usually focuses on economic relations, Abashidze said it is natural the meeting needs participation of Ministry of Economics representative.
The Minister of Economics, Giorgi Kvirikashvili, confirmed that the Abashdize-Karasin meeting will be expanded from previous formats. However, he is not yet sure what topics will be added to the agenda.
"It is too early to speak in detail. We are still in talks," Kvirikashvili said.
The Free Democrats opposition party is very suspicious about the changes in negotiations with Russia. The party requested clarifications on how much closer Georgia is going to approach Russia and whether the government is considering joining the Russian-led Eurasian Union.
The Abashidze-Karasin talks are one out of two attempts at negotiations launched after the Russian-Georgian war in 2008, which ended diplomatic relations between Russia and Georgia. The most remarkable result of the talks was the reopening of the Russian market for Georgian products.