Georgia planning to build about 100 new hydro power plants
Tuesday, June 2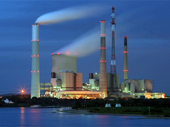 Georgia is planning to build 91 new small hydro power plants, said the country's Ministry of Energy.
Among those planned are the Khaishi Hydro Power Plant, the Tobari Hydro Power Plant and the Pari Hydro Power Plant, as well as a cascade of hydro power plants on the Tskhenistskali River, compose the largest projects.
Earlier, the Deputy Minister of Energy of Georgia, Mariam Valishvili, told Trend that it is planned in 2015 to put into operation the hydro power plants in Georgia with a total installed capacity of 120-130 MW.
In addition, a growth in capacities in this area is scheduled for 2016.
Currently, a project is underway to construct an energy bridge between Azerbaijan, Georgia and Turkey.
Under this project, Georgia will be able to become a transit country for energy supplies from Azerbaijan to Turkey and to Europe, and export its electricity in the period from April to August, when the country is experiencing an excess of it.
(Trend.az)