The visit of the British delegation
Friday, June 12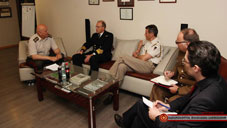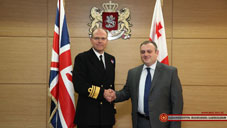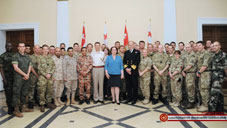 The UK Defence Academy delegation led by General Joint Force Development and Defence Academy of the United Kingdom of Great Britain and Northern Ireland, Vice Admiral Duncan Potts, paid a visit to Georgia for the second time.
Minister of Defence Tinatin Khidasheli and Chief of the General Staff of the GAF Major-General Vakhtang Kapanadze welcomed the British visitors at the Information-Education Centre of the MoD. The Ministry officials underlined significance of similar visits. During her address to the audience, Minister focused on Georgia's Euro-Atlantic aspirations and the contribution provided to the global security. Policy and Planning Department of the MoD and J5/9 Strategic Planning, Military Policy and Military Cooperation Department of the GS delivered the presentation on the reforms and transformation ongoing within the MoD.
Within the framework of the visit to Georgia, Vice Admiral Duncan Potts held bilateral meetings with Chief of General Staff of the GAF, Major General Vakhtang Kapanadze and Deputy Defence Minister Besik Loladze. At the meetings the sides focused on deepening relations in military education sphere. The British side expressed readiness to cooperate in the rehabilitation process of the Georgian wounded warriors. Regional security environment and challenges were one of the main topics at the meetings.
The British guests visited Davit Agmashenebeli National Defence Academy as well.