Additional charges announced for ex-Defense Minister
By Ana Robakidze
Friday, July 3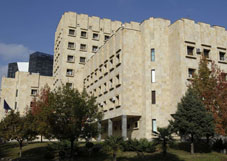 Prosecutorís office of Georgia announced on July 2, that the former Defence Minister of Georgia and businessman Davit Kezerashvili was charged with extortion.
An investigation has revealed that in 2010, Kezerashvili decided to become the owner of Bimedia Investments Limited, an oil products and dry loads processing company owned by father and son Tamaz and Zura Nizharadze. In August 2010, he met the company holders and simply demanded from him to relinquish his company share. Tamaz Nizharadze, who refused to give away his property, became a subject of blackmail and death threats, which also included his famiy. According to the investigation, Kezerashvili used his authority to put physiological pressure on Nizharadze, by sending MIA officers to intimidate his family members.
Tamaz Nizharadze was forced to hand over his company shares to Kezerashvili. Official documents stated that Nizharadze was compensated accordingly. However, he never received any money for his share.
Speaking to media, Nijaradze said he hopes the court will return the company to him.
ďHe (Kezerashvili) deprived us from everything, everything we had spent 20 years to build. It is true what the prosecutorís office says. I indeed became a victim of Kezerashviliís threats in August 2010,Ē Nijaradze said.
The City Court is the only hope for the Nijaardzes to regain their company. The shares the Nijaradzes had to hand over to Kezerashvili are now owned by another individual, whose name has not been revealed. According to the prosecutorís office, Kezerashvili got rid of the oil company by selling the stock to the companies registered in offshore areas.
The prosecutorís office says there are witnesses who can confirm that Kezerashvili used his authority to deprive people from their property. The investigation is still underway and if the court finds Kezerashvili guilty, he may be sentenced from 4 to 7 years in prison.