Parliament approves Interior Ministry reform
By Ana Robakidze
Friday, July 10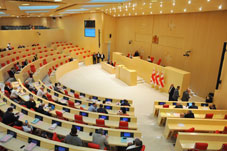 The Georgian Parliament finally approved a bill on reforming Interior Ministry. During a session on July 8, lawmakers approved a new law which will establish the State Security Service, a new state agency to unit counter-terrorism center, counter-intelligence, anti-corruption agency and operative-technical department. These units are currently controlled by the Interior Ministry.
The bill was turned down by the largest opposition parties, United National Movement and Free Democrats.
When the bill is signed by President Giorgi Margvelashvili and goes into force, Prime Minister Irakli Gharibashvili will have five days to nominate a head of the State Security Service. After the official nomination, Parliament has two week to vote and approve the first head of the new agency.
In case Parliament fails to confirm a candidate by August 1, the date when the State Security Service should be established, Ghariabshvili will appoint a temporary head of the agency, who will take the post until the legislative body approves a PM nominated person.
The candidate cannot be a member of any political party and will be approved by parliament by a minimum of 76 votes in favor. He will serve a single six-year term.
The bill was opposed not only by political parties but also by large groups of the civil sector. Human right groups claim the bill does not bring any novelty and it simply duplicates functions between the Interior Ministry and the State Security Service, as the units under the security agency will be granted with investigative functions and will also have the right to carry out detentions.
The new State Security Service will have a staff of 4,000 and be funded this year from the Interior Ministry budget.