Russia responses NATO –Georgian joint trainings
By Messenger Staff
Tuesday, July 14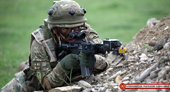 The NATO multinational military exercise was officially opened on Vaziani field on July 10. The training is named Agile Spirit 2015 as a part of the substantive package Georgia was granted after the NATO Wales Summit in 2015.
Analysts believe that in the event Russia openly threatens Georgia again, such training will have significant value.
Soldiers from the United States, Bulgaria, Romania, Latvia and Lithuania have arrived in Georgia to take part in the training. From the Georgian side the 42nd battalion is involved in the activities and the USA is represented with up to 220 soldiers, while others have only 20 soldiers each.
The aim of the training is refinement of staff and field military activities especially when it comes to conventional operations.
Head of Georgia's General Staff Vakhtang Kapanadze says that the NATO- Georgian military training center, which covers Vaziani and Krtsanisi national centers, will be opened for the final part of the training at the end of July.
Kapanadze said that the NATO Secretary General is scheduled to attend the opening ceremony.
Meanwhile Russia's Foreign Ministry and Duma are holding a conference with the title World and Regional Security Challenges in 21th century.
Georgia's former parliament Speaker Nino Burjanadze is leaving for the occasion as she has been invited there. Burjanadze is scheduled to hold meetings at the federation council and at the Russian foreign ministry.
Analyst Elene Khoshtaria believes that Russia is the main threat for the region and Georgia. She states that Burjanadze is clearly a pro-Russian force who "fortunately" has no public support.
Analyst Ramaz Sakvarelidze thinks that Russia is much irritated with the NATO training center and that it will take more aggressive steps to Georgia in response.
We have already seen the starting response from Russia and its renewed crawling occupation. Through such steps, Russia is making the Georgian government see its weakness in securing its own territories.