Gomelauri to chair State Security Service
By Ana Robakidze
Tuesday, July 21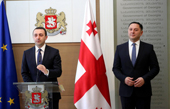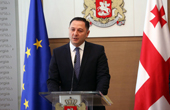 Minster of Internal Affairs Vakhtang Gomelauri will chair the State Security Service. The news was announced by Prime Minister Irakli Gharibashvili on July 20.
Following the new legislation which reforms the interior ministry and separates intelligence services from the Ministry, the new agency will begin working on August 1st.
Gomelauri now needs strong support from Parliament. At least 76 MPs have to vote in favour so Gomelauri could take the post with a term of six years.
If he chairs the State Security Service, the PM will have to find a candidate for the vacant post of the Interior Minister.
In the case he is turned down by the lawmakers, the PM can introduce the same candidate for the second time, which has to be approved no later than August 1st. If the candidate does not gain a confidence vote, PM will have to nominate an acting head of the agency who will serve in the role until the legislative body approves another nominee.
Gharibashvili said Gomelauri was able to handle interior ministry and there is no doubt he will be a successful head of the intelligence services.
"We have begun the Interior Ministry reform and depoliticised the system and from now on security services will be separated from the ministry. Making this decision, our coalition has once again confirmed that we are committed to our promises," the PM said at the special press conference on July 20.
The 40 year-old Gomelauri is married and has two children. Before joining the government he was the head of the private security team of the Georgian billionaire and former PM Bidzina Ivanishvili.