Officials say: Russia tries to provoke us
By Messenger Staff
Tuesday, July 21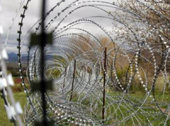 Moving the so-called administrative border into the central part of Georgia quite close to Tbilisi-Gori motorway has caused a serious stir amongst Georgian people.
Some people are actively protesting the action of the Russian Federation and the de-facto Tskhinvali leadership. Meanwhile the Georgian government sees a provocation in the actions and does not intend to review its policy towards the occupant.
It is interesting how the current leadership sees the future relations between Georgia and Russia.
On the one hand, the Georgian Dream officials try to regulate relations with Russia through the Karasin-Abashidze format established after the 2012 parliamentary elections that is mainly focused on trade-economic relations, and on the other it says that Georgia is under a permanent risk of war from Russia.
"In the course of three years we have done our best to avoid further conflict. Neither Georgia's first President Zviad Gamsakhurdia nor the previous government under Mikheil Saakashvili managed to ignore such provocations," Minister in Civil Reconciliation and Public Equality issues, Paata Zakareishvili, said.
The Minister of Defense Tina Khidasheli also stated that Russia is attempting to provoke Georgia.
She says that the international community is well informed over the Russian actions that bring additional black spots to the Russian international image.
Prime Minister Irakli Gharibashvili says that such situations might be regulated only through peaceful methods.
The current leadership also accused the previous one of making fatal mistakes and creating the undesirable situation Georgia is currently facing.
It should be said that shifting blames on others in such circumstances will bring nothing beneficial for the state interests.
Of course we should not be provoked. However, it does not mean that we should remain silent in the face of every disgusting action the occupant carries out.