Tbilisi hosts grand opening of the Youth Olympics
By Ana Robakidze
Tuesday, July 28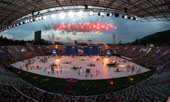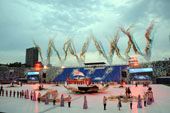 The Mikheil Meskhi National Stadium in Tbilisi hosted the grand opening ceremony of the European Youth Olympic Festival (EYOF) of 2015. A six-day summer Youth Olympic Games, the largest sport event Georgia has ever hosted, began on July 26.
Georgian folk and mythology was the main theme of the ceremony. The Sukhishvili National Ballet group, the famous Georgian prima ballerina Irma Nioradze and many other famous Georgian musicians and show personalities performed as part of the ceremony.
The organizers of the ceremony tried to bring forward the diversity of the country by presenting youth ensembles performing Georgian folk dances from various regions of the country.
The first part of the ceremony was concluded with the National anthem performed by the internationally acclaimed Georgian tenor Paata Burchuladze. After the Georgian flag was raised, participant athletes took the stadium. Based on the Olympic tradition, Greece was the first country to enter the stadium, after which other countries marched in alphabetic order.
The ceremony was attended by the Georgian government and their family members as well as by the President of the European Olympic Committee Patrick Hickey and other representatives of the committee. Chairman of Tbilisi 2015 Aleksi Akhvlediani and Patrick Hickey addressed the gathered people.
Around 4000 young athletes aged from 14 to 18 years, marched in the Meskhi stadium. The athletes will compete in judo, swimming, tennis, artistic gymnastics, basketball, cycling, handball, athletics, and volleyball. Georgia has the largest number of participants; a total of 193 athletes will compete for the Olympic medals.
The guests of the games are staying in the Olympic village, which can accommodate around 4000 people. The village is located on the Tbilisi Sea and represents a part of the large residential complex built by the China-based Hualing Group.
The Olympic committee is very satisfied how Georgia has handled the preparations for the games. Hickey said ahead the opening ceremony that the committee had made a wise choice when chose Tbilisi over the Czech city of Brno.