Internet Provision and Innovation Center Project ongoing in Regions
Tuesday, July 28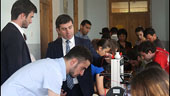 Representatives of LEPL Innovation and Technology Agency of the Ministry of Economy and Sustainable Development of Georgia held meetings in Choporti and Kharagauli with regards to the country's Internet provision and public innovation centre project. Irakli Kashibadze, Head of the Innovation and Technology Agency discussed the agency's activities, the importance of internet availability and remote employment platforms at the meeting.
The population of Choporti and Kharagauli were informed in detail about the industrial innovation laboratories and application of modern technology.
Within the framework of the meetings, representative of the ITTC Company talked about micro-electronics equipment and capabilities. An exhibition was also organized, where representatives of the company performed simple tasks together with the youth.
At the end of the presentation questionnaires were given to the population, which will enable the agency to understand what the requirements and needs of the population are.
In addition, similar meetings will continue in other regions.
(Minister of Economy)