Kadagidze hopes President vetoes bill on National Bank
By Ana Robakidze
Wednesday, July 29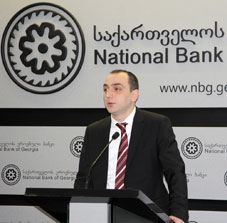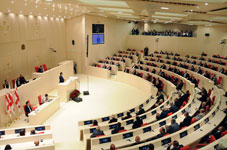 President of the National Bank of Georgia, Giorgi Kadagidze hopes the bill on the National Bank will be vetoed. According to Kadagidze, the bill which restricts the authority of the National Bank and transfers some of its power to the Prime Minister cannot withstand criticism.
"First of all, the purely legal aspects about the bill cannot stand up to any criticism; there are many articles allowing interpretation in many different ways and this may lead to serious issues in the future. In addition, it is not compatible with the Constitution. Also, the bill was strictly criticized by our partner international organizations," Kadagidze said. He is sure that the only reason the amendments to the law on the National Bank were initiated was to weaken the institution.
In the case the bill gets vetoed, law makers will have another chance to reconsider it, says the head of the National Bank. Kadagidze believes the new law will have a negative impact on the flow of investment into the country.
"We have had active consultations with the President. Our position is publicly known. It is a very dangerous bill and it cannot be adopted in the existing wording. This is not only our position. No self-respecting economist can positively assess the draft law," Kadagidze said.
The bill has been harshly criticized by the civil sector as well as national and international independent experts and reportedly President Giorgi Margvelashvili is going to use his veto power.
According to the law, the National Bank has authority to conduct the monetary policy and supervise the banking system. The draft sets up a separate agency subordinate to Prime Minister to supervise the banks in Georgia. The new agency will he chaired by seven members from the National Bank selected by Parliament.