Georgia develops high-speed Internet in regions
Monday, August 3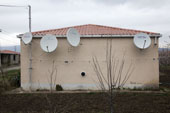 Georgia is beginning to develop high-speed Internet infrastructure in the country's regional areas, making Internet cheaper and more accessible for the rural population.
The project was initiated by the Innovation and Technology Agency, whose leader Irakli Kashibadze held a press conference and outlined the Internet development plans. He said the development works would be carried out by non-profit legal entity Opennet.
When the project was complete, more than 2,000 residential settlements would be able to access high-speed Internet, said Kashibadze.
"To implement the project, the Georgian Government will use best international practice, which will give us the opportunity to provide the rural population with cheap Internet," he said.
Kashibadze said the Government planned to implement open Internet access points that will enable more than 120 small Internet service providers to offer their services to the rural population.
In addition, he said Opennet had been created several days ago specifically for this project to develop Internet infrastructure in Georgia. The company was already operating.
(Agenda.ge)